4 Dedications, By Type and Narrative, as Suggested in the Photographs of Catherine Lord.
Teresa Carmody
2. Joanna Russ, This book is dedicated to Anne, to Mary and to the other one and three- quarters billions of us.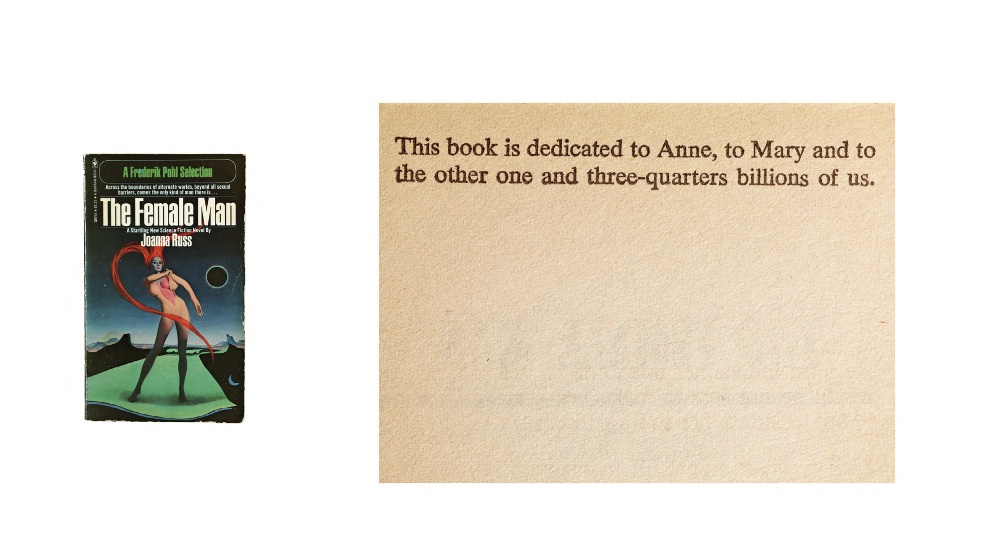 Type: A Dedication to Demonstrate the Personal as Political

Narrative: Joanna Russ refused to step on astro-turf, so she never walked on most athletic playing fields. She called the turf "chem-grass," its first name, coined by employees of Monsanto Company, the turf's first makers. The corporation was also one of the main reasons Joanna Russ rarely ate at restaurants. She knew Monsanto, or one of its subsidiaries, provided the genetically-modified seeds, herbicides and pesticides that eventually turned into the breads and salads on the restaurants' unthinking menus. Joanna Russ saw chem-grass as the future of food, but felt she already couldn't trust soy to be just soy. She insisted, rightly so, that if business makes produce, the same is true for you and me. We are made, non-organically. The only question is who or what does the making. Joanna Russ was known to make a very mean navy bean stew.
---
Teresa Carmody is the author of Requiem (Les Figues). She is also the author of several chapbooks: I Can Feel (Insert Press), Eye Hole Adore (PS Books), and the chapbook Your Spiritual Suit of Armor by Katherine Anne (Woodland Editions). She is a co-founding editor of Les Figues Press, and the co-editor of its anthology I'll Drown My Book: Conceptual Writing By Women (2012). She is currently pursuing a PhD in English/Creating Writing at the University of Denver.
This work was commissioned for Suggested Reading, an exhibition of visual art inspired by specific literary techniques, curated by Kristine Thompson, Fellows of Contemporary Art (FoCA) Gallery, Los Angeles, July-September 2011. "4 Dedications..." appeared in a limited-edition catalogue that accompanied the show.