4 Dedications, By Type and Narrative, as Suggested in the Photographs of Catherine Lord.
Teresa Carmody
4. Jill Johnston, This book is for my mother who should've been a lesbian, And for my daughter in hopes she will be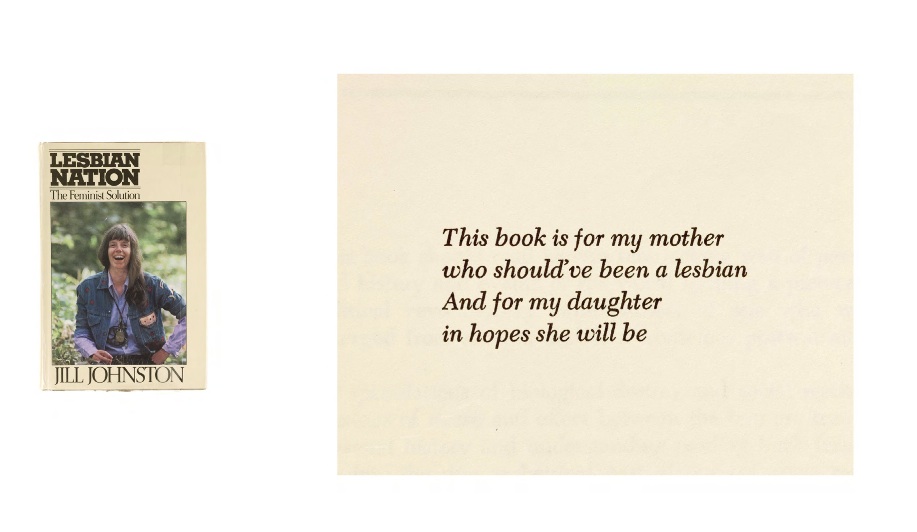 Type: A Dedication to Fuck It Up
Narrative: Jill Johnston thought of herself as an every day kind of gal. Her reasoning was simple: every day she woke up and every day she did the same kinds of things everyone else did every day too. She ate. She brushed her teeth. She put on socks. She misplaced her keys. She wished somebody would say something clever or witty or even just old-fashioned funny. She wished some people would go away. She thought of things she wished she would have said and included those lines in the stories she later told about the thing that actually happened. Because people should always say what they should have said.
---
Teresa Carmody is the author of Requiem (Les Figues). She is also the author of several chapbooks: I Can Feel (Insert Press), Eye Hole Adore (PS Books), and the chapbook Your Spiritual Suit of Armor by Katherine Anne (Woodland Editions). She is a co-founding editor of Les Figues Press, and the co-editor of its anthology I'll Drown My Book: Conceptual Writing By Women (2012). She is currently pursuing a PhD in English/Creating Writing at the University of Denver.
This work was commissioned for Suggested Reading, an exhibition of visual art inspired by specific literary techniques, curated by Kristine Thompson, Fellows of Contemporary Art (FoCA) Gallery, Los Angeles, July-September 2011. "4 Dedications..." appeared in a limited-edition catalogue that accompanied the show.